Printed Vinyl Banners
No matter what business you're in you need to promote it to make sales and grow your client base. There are a lot of ways to accomplish this task. Advertise in print, advertise online, email newsletters, direct mail and more. One very effective and affordable way to promote your business or service is to display a banner sign. Our vinyl banners are perfect for promoting your business or any other special event or occasion coming soon. We have the perfect sign design template for your personalized birthday banners, graduation banners, class reunions, family reunions and many more.
We've made the whole process as easy as possible for you. The sign design templates available are plentiful and varied. You'll find lots of different business types listed under the business category. Just click the business button below and take a look. If you want a vinyl banner sign to celebrate the holidays, we've got that, too. If you have the design done already, start with our blank template and design your own vinyl banner sign. Upload your artwork and place it in your template and voila! Be sure to choose your size before placing your artwork to keep your artwork from getting stretched out of proportion. Combine both; Use our colors and text and upload your logo or graphics, or use our huge library of free clipart. The sky is the limit.
Choose Your Category
We print vinyl banners in so many sizes and configurations ~ You can create your banner in landscape; like standard graduation banners. You can design your banner in portrait (light pole banners); like you see hanging on the front of the Columbus Museum of Art. 4Signs offers vinyl banners from 12" to 192" tall x 12" to 600" wide. That equals out to up to 16 feet tall and up to 50 feet wide! The possibilities are endless. Please note that our banner prices are based on the dimensions. So choose your size before you customize!
4Signs vinyl banner materials are rugged durable 13oz scrim vinyl and printed with UV resistant inks to make them last even longer. Scrim vinyl is made of polyester mesh which provides added strength and a smoother texture for printing. Purchase a banner install kit, which includes everything you need to install your banners up to 3 x 6 ft. Our custom banners include brass grommets (they don't rust) at no extra charge. Once your banner is printed, you can pick it up here on the west side a mile south of I-70 on Wilson Road or have it shipped direct to your door. No matter where you are, we can get your sign to you fast!
Get started now! We've done the hard work. Use one of our sign design templates and all that's left is for you to make it your own. Get your vinyl banner today and get more business. Get your personalized birthday banner for that special someone, or a valentines day banner for your loved one. Design the perfect welcome home banner for your returning Soldier. Create a stunning event banner for a wedding, family reunion, class reunion or any event that you want to celebrate with the world. Get the perfect graduation banner. It's easy, fun and affordable, so get yours today!
Don't forget your Install Kits for installation of your beautiful new vinyl banners.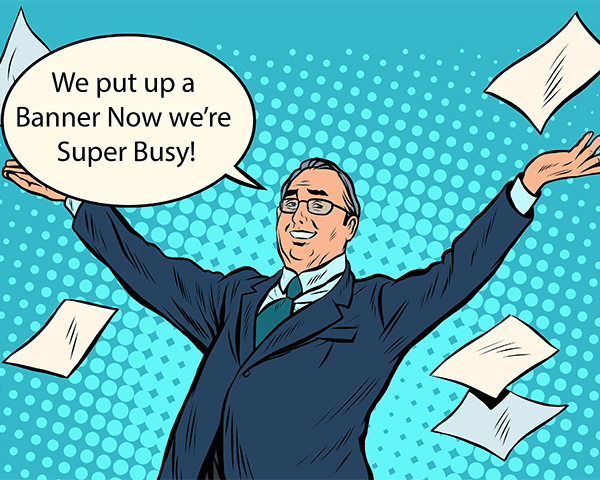 Pricing
: Printed Banners Available as Wide as 50 Feet! Banner pricing is based on the final dimensions of the design. Additionally, quantity discount pricing applies to all banner orders. Visitors to 4signs may individually customize the height and width of their banner design during checkout. Depending on order quantity and the banner size chosen, the price dynamically tabulates in your browser as you adjust your order quantity and dimension details.
BANNER DIMENSIONS: 4Signs can print banners as large as
16 ft by 50 ft
(see graph, below):
Custom Vinyl Banners Sign Design Templates
| Banner Dimension | Minimum (ft) | Maximum (ft) |
| --- | --- | --- |
| Height | 1 | 16 |
| Width | 1 | 50 |
Example Pricing for 3' by 6' Banners (Many Custom Sizes Available)
Order Qty
Banner Dimensions (H x W)
Price each
1
3 x 6 (Ft)
$42.30 *
2
3 x 6 (Ft)
$41.37 *
5
3 x 6 (Ft)
$40.35 *
10
3 x 6 (Ft)
$39.46 *
25
3 x 6 (Ft)
$38.55 *
50
3 x 6 (Ft)
$37.61 *
100
3 x 6 (Ft)
$36.71 *
* Price PER BANNER
Save